_________________________________________________________________
_________________________________________________________________
ABC11 aired a story in July 2018 on a campaign we're developing with Centerline Digital to build awareness about our Sweeter Dreams bed program.
_____________________________________________
The Green Chair Project was presented with the Triangle Business Journal's
2018 Corporate Philanthropic Award
_________________________________________________________________
Executive Director Jackie Craig was interviewed in this April 2018
Walter Magazine article
Givers: The Harvard 100
Excerpt: Craig is a May 2017 graduate of the four-day course. "It's remarkable. … As executive directors, to be lifted out of our day-to-day and be encouraged and informed at such a high level, is life changing. It really was a game-changer, in my life of leading a nonprofit."
_________________________________________________________________

Jackie Craig was interviewed on ABC11 WTVD on Feb. 15, 2018 to promote our upcoming Sale.
See the story here. 
Thank you to Spectrum News and the wonderful stories they aired on The Green Chair Project and our Tag Sale Feb. 15-17. Click here to view the story.

Local blogger Vanessa Donohue published this blog on the The Green Chair Project and our February Tag Sale: 

The Philanthropy Journal
, published by NC State's Institute for Nonprofits, published a News Brief on our Sweeter Dreams bed program. 

Giving Kids Something They Really Need: A Bed
Triangle Business Journal reported on our Sweeter Dreams bed program: Leesa Sleep – an online mattress company that has Seventh Generation CEO John Replogle serving as chair of its board – has given 110 mattresses to The Green Chair project, a Raleigh nonprofit. Read more in the October 20, 2017 issue of Triangle Business Journal. 


Thank you to Triangle Downtowner Magazine for featuring us on the cover of Issue 129 and donating ad space to promote our 2017 Chairity Benefit. Read the full issue here!

Midtown Magazine recognized Jackie Craig, Co-founder and Executive Director as one of their

Women of Impact

 in their March/April 2017 Issue.
Walter Magazine continues to share The Green Chair Story. The article in the June/July 2016 issue highlights our 1,000th client served, Antoinette, and the generous local designers who re-designed chairs for our 2016 Chair-ity Auction. Read the full story.
Thank you, WRAL, for sharing The Green Chair! Watch Bill Leslie visit The Green Chair here:
And their segment on the Sweeter Dreams Program here:
Thank you to UNC TV for helping to share our story on North Carolina Now! View the video below (we're about 6 minutes in!)
Our Co-Founder and Executive Director, Jackie Craig, was honored at Walter Magazine's Women Inspiring Innovation event in September 2015. This event honored the achievements of six local women who have turned ideas into reality and changed our world in the process. Read more about Jackie and the other honorees.

Walter Magazine is helping to share The Green Chair Story. Read the story 

here

.
TGCP was on WRAL! Read the article and watch Jackie's interview

here

.
The Green Chair Project was featured in Philanthropy North Carolina and the Triangle Business Journal.
Read the article here.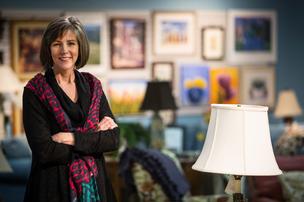 Photo credits: Triangle Business Journal
Beth Smoot was an Honorable Mention for this year's Good Neighbor Awards! She won $2,500 from the National Association of Realtors for The Green Chair Project. Thanks, Beth!
Read the article here.
Check out the N&O's Tarheel of the Week! Thanks, Jackie, for your service, vision and commitment!
Green Chair Featured in the Cary News, May 1, 2010
LOVE YOUR NEIGHBORHOOD NEWS
On July 20, 2013, The Green Chair Project hosted a Love Your Neighborhood donation drive in partnership with the Red Cross & Catholic Charities.  This donation drive focused on collecting items for Orange County residents that were impacted by recent flooding.  Please visit the following links for recent news about this donation drive and the community impact.
Other Past News: