Purchase Benefits Ticket or Become an Event Sponsor here!
Our mission is to reuse donated household furnishings to renew lives of 

participants 

referred from area programs who are 

recovering 

after homelessness, crisis or disaster.

Our first newsletter of 2015 is out! Read it here.
Learn more about The Green Chair Project and our mission by viewing this video:
The Green Chair Project Documentary on YouTube from Angela Alford.
The Green Chair Project is featured in Philanthropy North Carolina and the Triangle Business Journal.
Read the article here.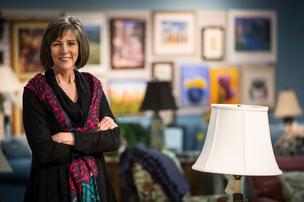 Photo credits: Triangle Business Journal
Beth Smoot was an Honorable Mention for this year's Good Neighbor Awards! She won $2,500 from the National Association of Realtors for The Green Chair Project. Thanks, Beth!
Read the article here.
Check out the N&O's Tarheel of the Week! Thanks, Jackie, for your service, vision and commitment!
Donations are accepted at 1853 Capital Blvd., Raleigh 27604 on the following days and times:
Every Tuesday through Friday from 10 AM to 5 PM.
The first and third Saturday of each month from 10 AM to 1 PM.
For a list of items that are needed and for more information, please visit our donations page.
Little Guys Movers have partnered with the Green Chair Project to provide professional moving services for families transitioning from homelessness and disasters into stable housing.  In the last two months, Little Guys have helped more than two dozen families and individuals transport the furnishings that they acquired at the Green Chair.
 Read more about our partnership here!